Description
Extruded EVA Barrier (EVA16) is a noise control material specifically designed to achieve maximum attenuation over a broad frequency range. EVA 16 is a low cost, dense, limp, flexible, non-lead loaded EVA based barrier designed by acoustical engineers, EVA 16 has been optimized to economically provide:
High Transmission Loss – the barrier's ability to impede airborne noise
Tough Tear Resistance – the barrier resists tearing without reinforcement and can be post formed to suit the dimension of the application
EVA 16 is available in rolls, sheets, die cut or fabricated to the customers specifications or can be easily field cut with a knife or scissors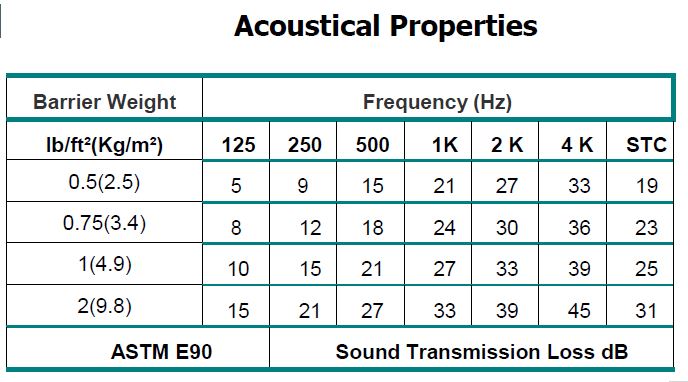 Material – Physical Properties Color: Black
Basis Weight: 16oz/ ft² (4.9 Kg/m²)
Available Weight Range: 0.5 to 2 lb /ft²(2.5 -9.8Kg/m²)
Tensile Strength:
MD 290 lb/sq in. min.(2000 kPa min)
AMD 335 lb/sq in. min.(2300 kPa min), ASTM D 412, Die C
Peel Strength: 2.2 lb/in-min.(0.66 kg/m-s), ASTM D903
Elongation:
MD 350%,
AMD 500%, ASTM D412, Die C
Flammability: MVSS 302 –PASS
UL94 – HB
Cold Crack: 1″(25mm) mandrel at -4°F(-20°C) – PASS
Shrinkage: 175°F(80ºC) 14 Days – 1%
Tolerances: ±10% for basis weight and material thickness,±0.5" (±12mm) for sheet dimensions or roll width and ±5ft(1500mm) on roll length.