Description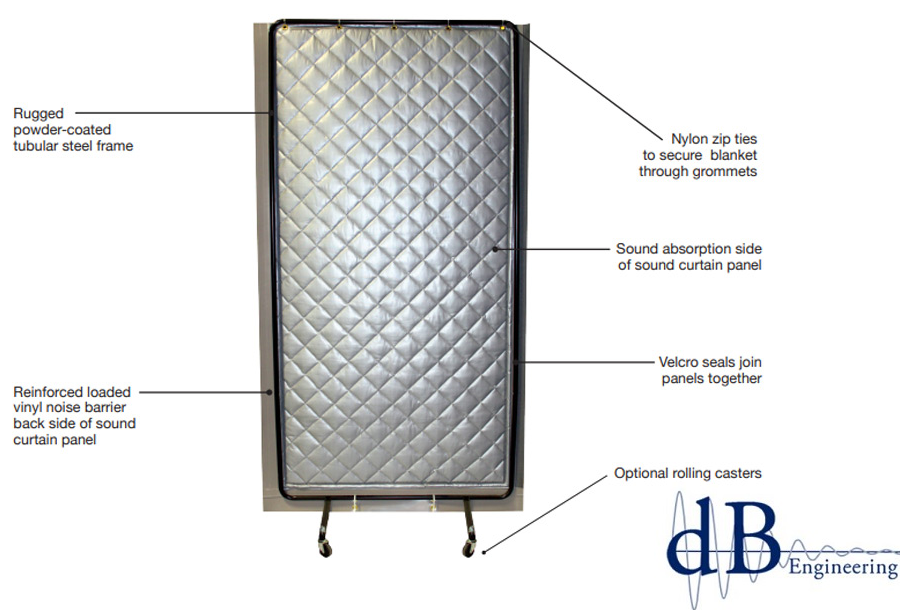 dB Engineering's Portable Acoustic Screens can be used individually or in groups to form partial noise enclosures, offering complete mobility and maximum accessibility. They consist of a rugged powder-coated tubular steel frame combined with our high-performance BBC (Barrier Backed Composite) curtain panel and heavy duty casters.
NRC: .75
Color: Gray
Thickness: 1"
Dimensions:
Material: Acoustical Curtain Laminated With Reinforced Mass Loaded Vinyl Barrier, Snap Lock Tubular Steel Frame
Features:
Standard Size 4′ x 8′
Custom fabricated for any size application
Completely mobile for maximum accessibility
Utilizes high-performance acoustical curtain panels
Collapsible framing allows for cost-effective and quick shipping methods
ASTM E84 Class I Fire Rating, Sound Transmission Class-25
Resistant to Fuels, Grease, Lubricants, Moisture, Solvents
Application:
For Use Around Cut Off Saws, Grinders, Compressors, Fans, and Quality Control Areas, Free Standing, Portable Unit can be Used Individually or in Groups to Enclose or Divide Noisy Areas, Optional Casters For Moving Screen.