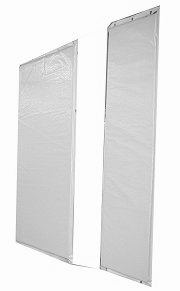 Ultra Acoustical Performance
Ultra Durability
Ultra Cleanability
Ultra Affordability
Ultra Easy to clean
Sound Seal's "Ultra" sound absorption baffles and wall panels are high performance, durable, low cost sound absorbers. The sound absorption core is encapsulated in a virtually rip proof reinforced polyester film.

"Ultra" baffles were installed in the bays of a concrete ceiling to reduce reverberation noise throughout the facility
Sound absorbers are soft, porous, open celled materials such as fiberglass wall panels and baffles that reduce the reflection of sound waves.
Acoustical Data
One-third Octave Band Center Frequency (Hz)
Model/size
125
250
500
1000
2000
4000
NRC
Ultra Baffle A (2'x4')
1.15
5.26
8.0
10.9
9.34
5.5
8.4
Ultra Baffle B (2'x4')
1.00
8.09
14.65
15.72
12.68
4.93
12.8
Ultra Wall Panel (4'x4')
2.3
13.4
22.6
26.6
22.0
10.5
21.2
Ultra Wall Panel 4'x8'
4.6
26.8
45.3
53.2
44.0
21.0
42.3
Table showing how the human ear perceives noise reduction.

Decibel Reduction

Reduction Experienced by Ear

2

15%

4

23%

6

38%

8

48%

10

56%

12

63%

14

68%

16

75%

18

77%

20

81%