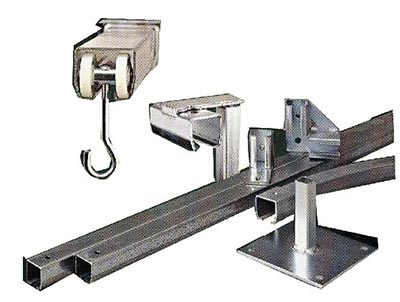 Manufactured from heavy-gauge galvanized steel components, our curtain support framework systems provide an effective, economic means of supporting any of the dB Engineering curtain systems.
The curtain support framework system can be mounted to the ceiling, wall, beams or floor in a wide array of configurations to meet your specifications.
All curtain support framework components are also available in double track configuration to offer "slide-by" access to virtually any point in an acoustical curtain application.
"H-D" Heavy Duty Curtain Framework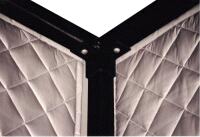 dB Engineering Acoustical Products Type "H-D" Heavy Duty Curtain Support Framework is designed to handle the largest Acoustical Curtain applications. Utilizing structural steel tubing, the "H-D" system offers greater stability as well as allowing for larger spans between columns for maximum access.

The "H-D" system can also be utilized to erect acoustical curtain enclosures in heights up to 16 feet, while still offering the versatility, strength and ruggedness required.
Table showing how the human ear perceives noise reduction.

Decibel Reduction
Reduction Experienced by Ear
2
15%
4
23%
6
38%
8
48%
10
56%
12
63%
14
68%
16
75%
18
77%
20
81%