Portable Acoustical Enclosures & Screens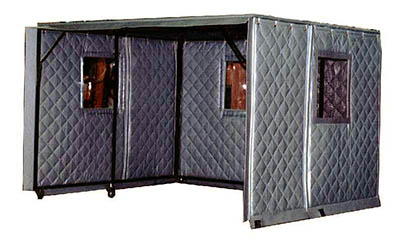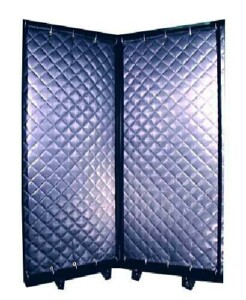 dB Engineering acoustical enclosures and screens are freestanding portable units which can be supplied with any one of Sound Seal's quilted fiberglass or absorber/barrier composite panels.
The acoustic screens feature panels which are attached to a heavy duty square steel tube framework by quick-connect nylon ties.
They may be used individually or joined at the edges to form a variety of configurations to meet your needs. The standard size is 4 feet wide by 8 feet high. Rollaway casters are optional. Custom sizes are available as well as custom fabric facings.
Portable Acoustical Enclosures can be custom designed for any application. They feature a rugged frame, heavy duty casters and are available with roof tops.
Features: Portable Enclosures
Custom fabricated for any size application
Completely mobile for maximum accessibility
Utilizes high performance acoustical curtain panels and roof panels for optimum noise reduction
Rugged steel tube framing, heavy duty casters
Features: Acoustic Screens
Portable Acoustical Screens utilize one-piece welded steel tube frame
Multiple units join together to form any configuration required
Utilizes high performance dB Engineering sound absorption/noise barrier acoustical curtain panels
Economical low installation costs
Standard size is 48″ x 96″, custom sizes are available
Portable Acoustical Enclosures can be custom designed for any application.  They feature a rugged frame, heavy duty casters and are available with roof tops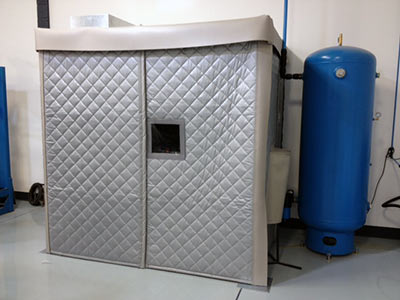 Acoustical Data:
Model No.

Sound Transmission Loss (dB) 1/3 Octave Band Center Frequencies (Hz)

125
250
500
1000
2000
4000
STC
QFA-10
6
11
15
20
25
32
19
BBC-13
11
16
24
30
39
43
27
BBC-13-2″
13
20
29
40
50
40
32
BSC-25
12
16
27
40
44
47
29
Per ASTM-E-90
Applications
Mobile enclosures
Machinery partitions and dividers
Wood working facilities
Metal shop facilities
Welding shields
Architectural applications
Table showing how the human ear perceives noise reduction.

Decibel Reduction
Reduction Experienced by Ear
2
15%
4
23%
6
38%
8
48%
10
56%
12
63%
14
68%
16
75%
18
77%
20
81%